15/08/19 - Global Woman Club City London - Business Networking Evening
15aug18:0021:0015/08/19 - Global Woman Club City London - Business Networking Evening
Event Details

EMPOWERING WOMEN LOCALLY – CONNECTING WOMEN GLOBALLY

A different style of networking

THURSDAY 15 AUGUST 2019

Global Woman Club is an ever growing network where members enjoy many benefits. What we really love about the Global Woman platform is that it brings together a high quality of women from all around the world and they feel comfortable with each other….. In every gathering we feel that we are returning back home.
We welcome you to Global Woman Club City London Evening
We know that some women would love to attend but are unable to make it for breakfast and others are working in an office during the day, so we decided to create a Global Woman networking event in the city of London in the evening.
Business entrepreneurs exhibit a different level of soft skills, such as communication and leadership, which can benefit women in corporate to advance to higher leadership positions, thus more women representation in big company boardrooms. Women in corporate have better structural understanding in systems and processes in managing workflow and productivity, a skill that entrepreneurs can find challenging as their business grows and expands. Global Woman City London Club is where these two worlds merge to benefit all.
Teresa Le joined as a member of the first Global Woman Club London Breakfast in 2016, and has been a regular attendee and also at other Global Woman events. She first met Mirela when running a restaurant in West Hampstead London, called Ladadu. (Now a range of sauces). Teresa became the regional director of the City London Club in October 2018 and the 15th August 2019 will be her last for an unknown time as she takes time out for her first baby and we wish her well. Teresa will be introducing Natasha Necati, who will be taking over from September.
Book your early bird ticket by 08 August to save money!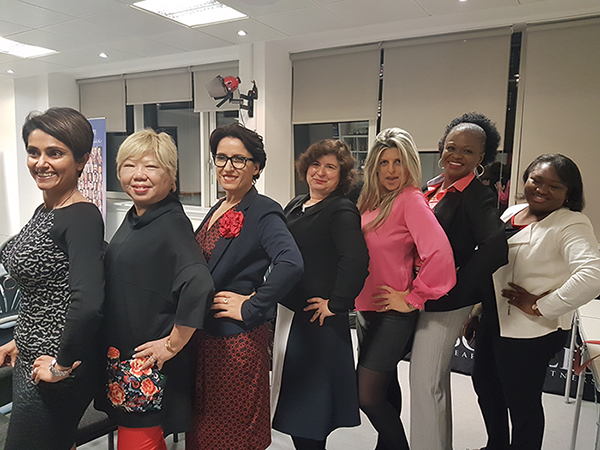 Arrive at 6.00 pm and help yourself to a special buffet prepared by Teresa, using her skills from her restaurant background and now a range of tasty sauces. Then do some initial networking, introductions and say a few words possibly on the Facebook Live video, as Teresa introduces you to the Global Woman community. The event will start at around 6pm with an introduction and overview.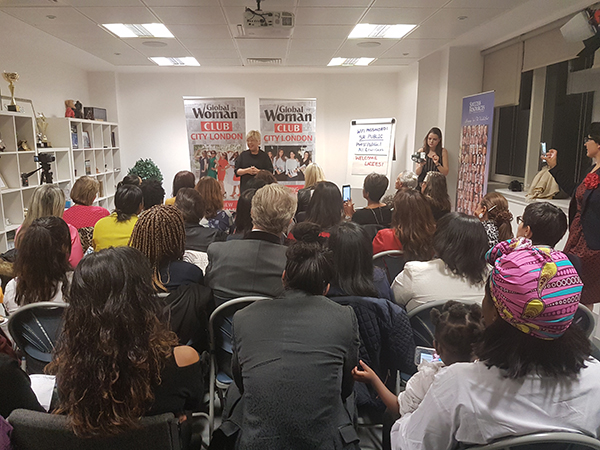 At Global Woman Club, members are all given the opportunity to speak for two minutes to the room and first time attendees can sign up on the day and immediately enjoy the additional benefits. They can talk about the topic theme, share their personal story, or their mission and vision, and talk about their business. There is no set order for speakers, some prefer to speak earlier, others later.
After about an hour there is a break for a drink, a little more from the buffet, and engage with others in conversation. We then gather everyone together and ask you to smile or wave for the group picture! After that, back to your seats and the second half for speaking to the room. This has an end time of around 8.30pm and if following the Global Woman tradition now, a number will go to restaurant or bar to continue the conversation and networking. Members can leave brochures or leaflets on the chairs during the break.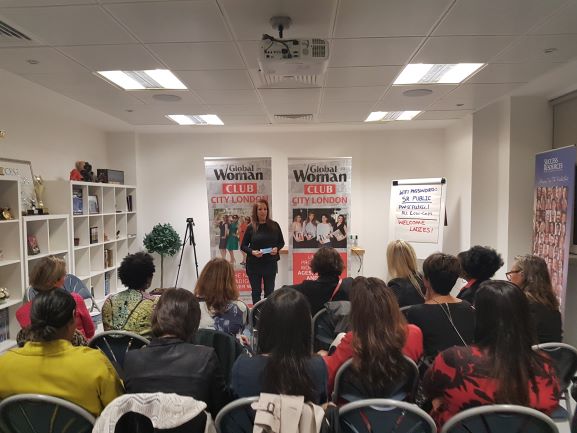 Members can attend any Global Woman Club breakfast, or evening event, in a one year period, at any location, and speak there. We have Global Woman Clubs in London, Birmingham, and Nottingham UK, Paris, Amsterdam, Antwerp, Stockholm, Gothenburg, Oslo, Milan, Vienna, Frankfurt, Brussels, Bucharest, Johannesburg South Africa, Los Angeles, New York, Chicago, with 24 clubs in 16 countries by the end of 2018 and many more opening in 2019.
It has evolved from Global Woman magazine, sharing so many great and inspirational stories and often bringing these women together to connect and share in person. Speak to anyone who has attended and they will say that it is unique and different to any other networking event they have been to. It has a warm, relaxed and supportive energy, and everyone is open and authentic. It is about building relationships and seeking mutually beneficial collaborations from a rich cultural diversity of women, very successful in what they do, but in such a broad range of professions and businesses.
What they share in common is to serve a social and human good and purpose in whatever they do. For the entrepreneurs, it is to profit with a purpose. For career professionals, it is to succeed with a purpose. We often refer to it as the 'Life purpose'.
It is the combination of all these magical ingredients that sprinkle a glowing sense of empowerment and happiness. United we are stronger and ready to face any challenges we are experiencing or may meet.
Get a sense of the occasion by viewing a snapshot of the action and hear what the women have to say in the video here: https://www.youtube.com/watch?v=cT9KWhfNNtA&sns=em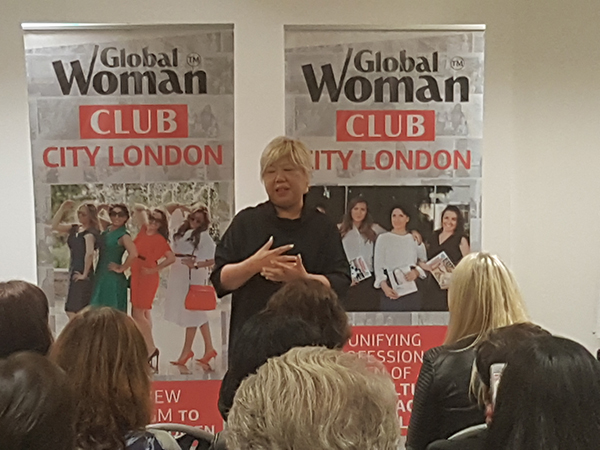 Our aim is to connect professional and businesswomen around the world, and we are celebrating together, knowing that many of us may have come from different countries, different backgrounds and even being at different stages of life and our profession or business but we all have something in common: the drive and the passion to succeed in business or our chosen vocation.
Global Woman Business Club helps women to build their confidence and belief that they can be successful in whatever they do. We help them build their brand and create awareness about their projects through our media platform.
more
Ticket Price:
by Global Woman Club £21.91 – £32.57
Time

(Thursday) 18:00 - 21:00
Location

Success Resources UK

St Clare House,