By Christina Ioannidis & Nicola Walther
A Must Read For Employers of Women in Business.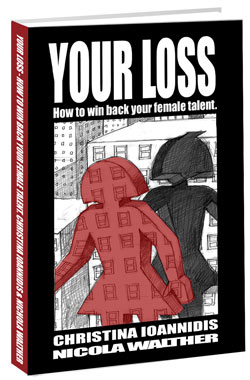 Top performing business women are turning on their well-heeled shoes and walking out the door of some of the world's best known companies.
This gender based brain-drain is causing a shortage of women at board level. Around the globe, women are carving out careers on their own terms. In many cases they are starting their own business.
Backed by a global survey of 'lost women', this book explains why top performing women in business have walked away from their careers during their most productive years. Their insights provide the basis for a business culture model that makes top performers want to stay.
Your Loss outlines a gender savvy business plan for competitive advantage.
It focuses on leadership, as well the four key business capabilities: passion, flexibility, collaboration, sustainability.
Written by two women who left multinational corporations to become entrepreneurs, this book demystifies the stereotypes and preconceptions around women in the workforce and shows how a diverse, innovative corporate culture has a positive effect on the bottom line.
About the Authors
Christina Ioannidis
Christina began her career as a corporate professional but, following double redundancies as a result of the 'dot-com bust', has pursued entrepreneurship in numerous guises. Despite failures along the way, Christina has learnt through experience that entrepreneurship presents an opportunity for women to identify and design working cultures that suit their individual needs.
Christina's mixed experience with large corporates, then entrepreneurship and now as an external consultant specialising in Strategic Organisational Development and Management, has helped develop the core of the Gender-Savvy model outlined in 'Your Loss'. The model has been substantiated through qualitative research from interviewees as well as quantitative research.
Christina Ioannidis is fast becoming recognised as one of the 'go-to' experts in the field of diversity and innovation. She is the CEO of Aquitude, a specialist consulting firm and the founder of the Diversity and Innovation think-tank 'Bidiversity.'
Follow Christina Ioannidis on Twitter
Nicola Walther
Nicola has over 13-years of experience from the world of banking and finance. She has travelled the world in a variety of roles within financial services, including corporate finance, transaction banking and relationship management, culminating in two senior staff roles, firstly within Emerging Markets and, lastly, within Risk at Citi. Nicola has lived, first-hand, numerous of the cultural and structural obstacles that face women in male-dominated fields, such as commercial and investment banking.
During her time at Citi, Nicola co-chaired a Retention & Development Committee for Women in the UK which developed the "Coaching for Success" programme that won external recognition from the Women of the Future Awards. She has devised and actively supported a multitude of Diversity initiatives, only to see the initiatives as "window-dressing"; not changing the underlying issues around stereotyping and structural bias.
Nicola is keen to make change happen in the corporate arena, to reduce the stereotyping she has witnessed and redress female bias for the benefit of improved business and, most importantly, for the personal and professional empowerment of women. Nicola has two children under three. In her limited spare time she enjoys cooking, dancing and fine dining.