By Dr Suzanne Doyle-Morris
STRATEGIES FOR ACHIEVING CAREER SUCCESS AS A WOMAN WORKING IN A MALE DOMINATED FIELD…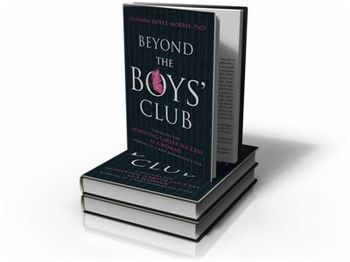 will show you how to develop your careers strategy, break though the glass ceiling for women and  completely raise your game. Packed with vital insights and inspirational ideas, the book is written specifically for professional females to enable strategic advancement for women in leadership roles…where ever they are in their career.
Are you just starting your career and excited about the journey ahead?
Manage your image through dress, voice and even your choice of words
Establish a sense of gravitas that is impressive to decision makers
Plan your opportunities to work abroad so as to speed your career progression
Turn your clients into your best advocates
Socialise and use your personal charm with both men and women in your workplace
Are you mid-career, but want to know what it takes to get ahead?
Proactively take control of your career rather than wait and hope to be noticed
Get key supporters on your side before you present your ideas
Know when to work with a coach and how to choose the best one for you
Find the mentors you want … even if they aren't the ones assigned to you
Handle problems with office politics, knowing you will never be "one of the boys", nor wishing to be
Are you near the top of your game but like all savvy women, know that the learning never stops?
Decide which risks are worth taking … and which you can't afford to get wrong
Raise your profile through public speaking, writing and engaging with the media
Follow your gut instinct and be respected for it
Develop your internal and external networks and how to capitalise on the difference
Be the professional woman you want to be, without losing your integrity
If you fall into any of the above categories, Beyond the Boys' Club is a must-read.
Beyond the Boys' Club: Strategies for Achieving Career Success as a Woman Working in a Male Dominated Field features coaching conversations and engaging interviews with incredibly successful women, each sharing unique strategies and paths to their success as they collaborate and compete primarily with men. It demonstrates how career women can thrive in male-dominated fields, whether working in coporate settings, private practice or academia.
In fact, the stories shared about womens' career development shared by the professional females interviewed in this book can benefit the careers strategy of all ambitious women, as indeed most fields become more male-dominated the higher up the professional ladder any woman climbs – a good lesson for women at any stage of their career.
Read what others have said about Beyond the Boys' Club…
AVAILABLE NOW – PRICED £13.99 + P&P

You can buy the book from our online shop by clicking here
Or via Amazon: Access Here